Excursion 04
Sunday, 30 June 1996
Dear colleagues,

It seems that wheather will not be very bad this coming Sunday. Therefore I will propose an excursion with a lake. My proposal is the following:
---
| | |
| --- | --- |
| Date: | Sunday, 30 June 1996 |
| Site: | Lac d'Anterne (2061 m) |
| Classification: | Difficult ma non tropo |
| Altitude: | 2163 m |
| Climbing up distance: | 983 m |
| Climbing time: | 4 hours |
| Total hiking time: | 6 hours |
| Starting point: | Le Lignon-Sixt (1180 m) |
| Meeting point: | CERN Main Cafeteria at 8h30 am |
| Remarks: | Beautiful lake of glacier origin surrounded by alpin meadows full of grass. Nice views of the Mont Blanc, the Haut Griffe, Chablais, etc. The lake is in the Natural Reserve of Sixt and therefore, the rules to protect these parks have to be observed. |
| Access: | From Annemasse taking road D907 untill Samoens and continue to Sixt. In Sixt take a road to the right hand side which drives to Salvagny passing by Maison Neuve. Continue straight following the road passing by La Cascade du Rouget untill reaching Le lignon. 300 m after you'll find a parking place. The trip to Le lignon may take 1 hour 50 minutes. |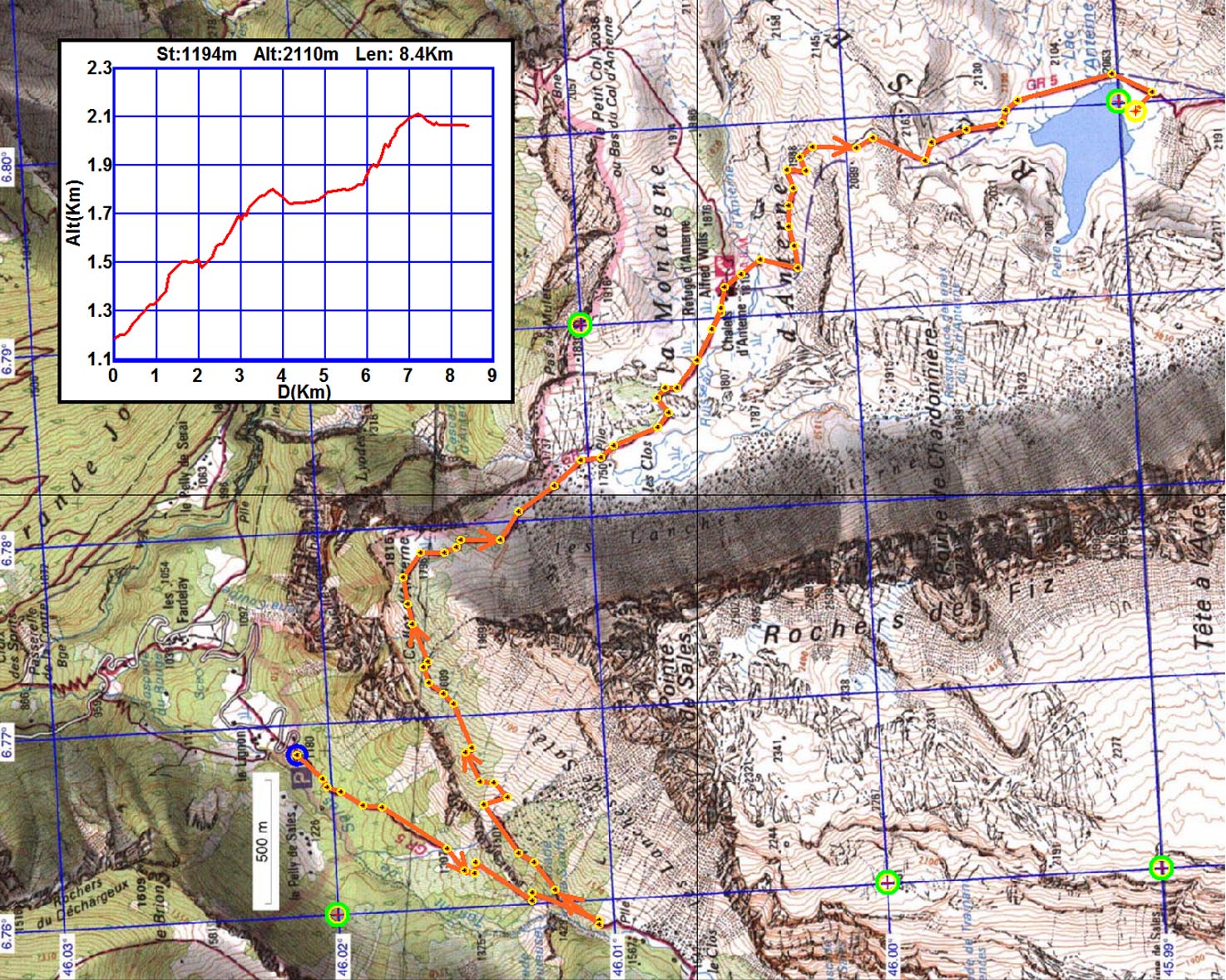 Click to see the excursion map.


Click here to see a txt file with the way points of the path. .
---
In the URL http://excursiones.salicio.com you can find information on the outings.

It is convenient to emphasize some useful items: please do not forget to carry on (wear) raincoat, hat/cap and sun glasses, warm gloves, hiking boots or sport-footwear with thick and non-slipping sole, enough food and drinks for the own consumption. Spear dry clothes and after excursion confortable shoes are very convenient.

I hope weather conditions will allow an enjoyable excursion! Cheers! Jose.