Excursion 02
Sunday, 13 June 1999
Dear colleagues,

Dear friends, Here is my proposal for the second mountain trip of this session:
---
<!========================================================================>
Date:
Sunday, 13 June 1999
Site:
Le Mole
Classification:
Very easy
Altitude:
1863 m (highest point)
Climbing up distance:
713 m.
Climbing time:
2.30 hours
Total hiking time:
4.30 hours
Starting point:
Chez Beroud (St. Jean de Tholome) (1150 m altitud).
Meeting point:
CERN Main Cafeteria, on Sunday at 9.00 am
Remarks:
Le Mole is an almost isolated montain surounded by the rivers Arve and Griffe. The first measurement of the Montblanc hight was made from Le Mole.
Access:
To reach St. Jean de Tholome, take the Autoroute Blanche and get out at the high of Boringes-Findrol. Take road N503 to Findrol and there change to road D9 that drives to Arpigny. 1 km after take road D20 to the right. This road leads to St. Jean de Tholome. Once there we should take a county road that passes by leaving the church to the left hand side. We should find along our way the sites of Chez le Baron, Vers Chateau, Chez Folliex, Rudde, Bovere, les Granges and finally Chez Beroud. Park there.

The trip from CERN to Chez Beroud should take about 1h20

<!========================================================================>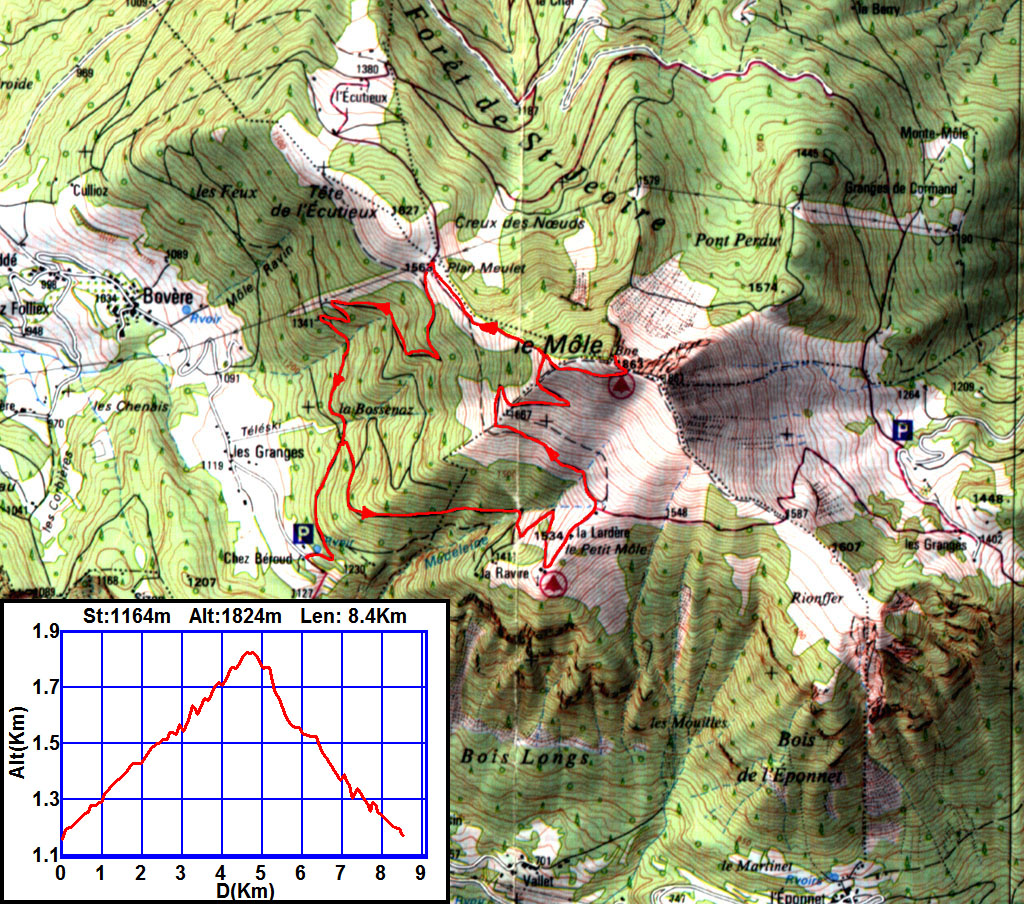 Click to see the excursion map.


Click here to see a txt file with the way points of the path. .
---
In the web address "http://wwwinfo.cern.ch/~salicio" you can find the map for this trip. Please, be in time for the appointment at the cafeteria.

It is convenient to emphasize some useful items: please do not forget to carry on (wear) raincoat, hat/cap and sun glasses, warm gloves, hiking boots or sport-footwear with thick and non-slipping sole, enough food and drinks for the own consumption. Spear dry clothes and after excursion confortable shoes are very convenient.

I hope weather conditions will allow an enjoyable excursion! Cheers! Jose.