Excursion 10
27, 28 and 29 August 1999
Dear colleagues,

Dear friends, Longtime ago and also recently a few among you have suggested to have a longer-than-one-day trip. Here is it!. I mentioned the trip I am proposing among the attenders to the excursions this year so that I now who is going to come. Reservations have been made in the montain huts of Pierre a Berard (1st day) and Moede-Anterne (2nd day). The goal is, of course arrive to Le Buet, but also to visit paysages that in one-day-trip would be inaccesible. I hope that wheather will play in our favour. Here is my proposal for this three-days-long-trip:
---
| | |
| --- | --- |
| Date: | 27, 28 and 29 August 1999 |
| Site: | Tour du pays du Mont-Blanc - Mont Buet (3096 m) |
| Classification: | Medium-difficult |
| Altitude: | 3096 m. (highest point) |
| Climbing up distance: | d1 (+600m), d2 (+1172-1241+147m), d3 (-405+960m) |
| Climbing time: | 3 days |
| Total hiking time: | 3 days |
| Starting point: | Le Buet - Couteray (1330 m) |
| Meeting point: | CERN Main Cafeteria, on Friday at 12.30 pm |
| Remarks: | Great! |
| Access: | Motorway to Chamonix. One of the cars to park on thetelepheric of Planpraz. Continue to Le Couteray and park the cars by the train station of Le Buet. The trip may take about 2 hours (including the time to leave a car in Chamonix. |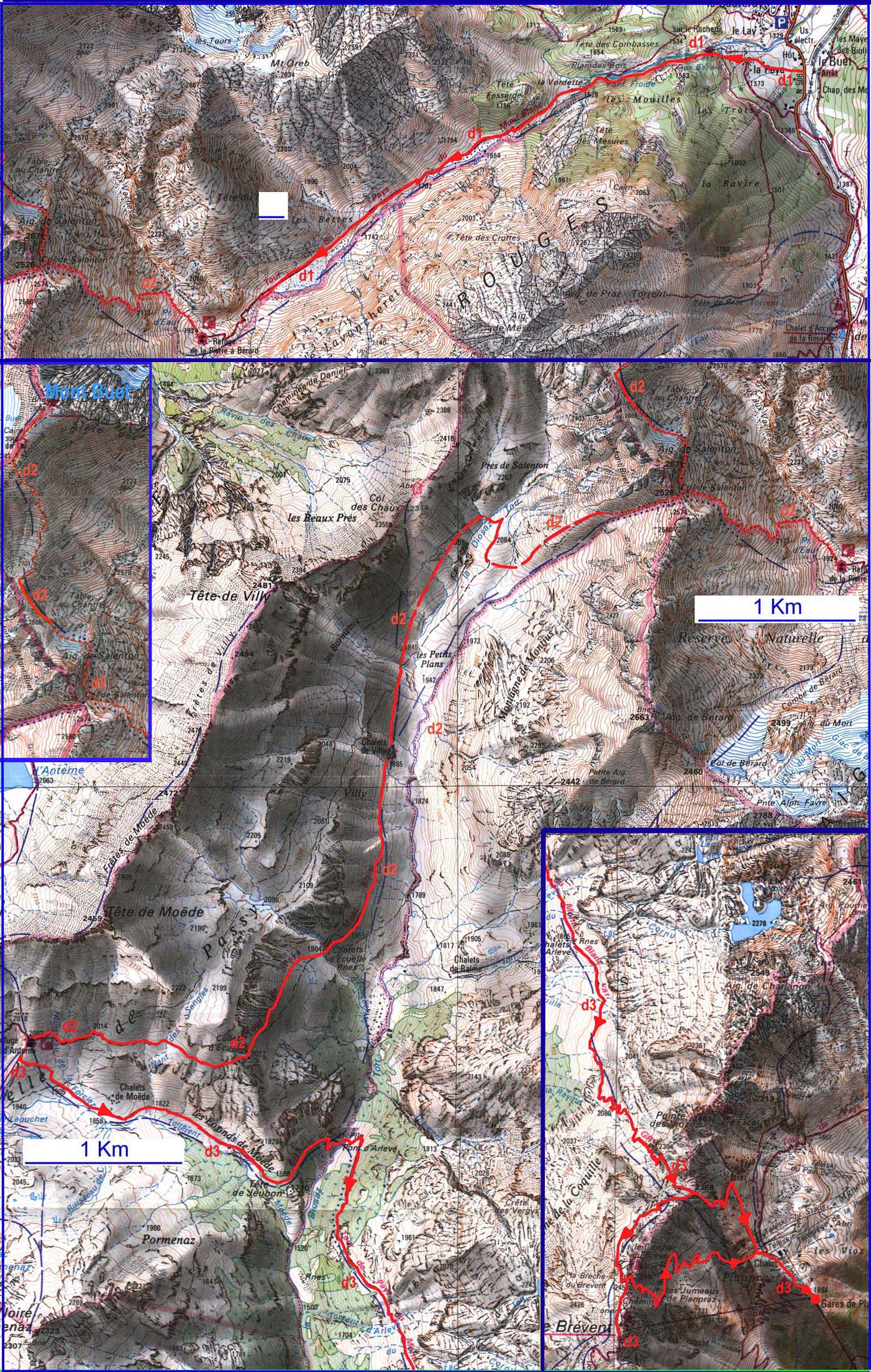 Click to see the excursion map.


Click here to see a txt file with the way points of the path. .
---
In the web address "http://excursiones.salicio.net" you can find the maps for this trip. This time more than ever

It is convenient to emphasize some useful items: please do not forget to carry on (wear) raincoat, hat/cap and sun glasses, warm gloves, hiking boots or sport-footwear with thick and non-slipping sole, enough food and drinks for the own consumption. Spear dry clothes and after excursion confortable shoes are very convenient.

I hope weather conditions will allow an enjoyable excursion! Cheers! Jose.